Sei in: > masterclasses > 2019 > GEORGY TCHAIDZE > PIANOFORTE
PIANOFORTE
DOCENTE
PERIODO
dal 02-12-2019 al 07-12-2019
SCADENZA ISCRIZIONE
18-11-2019
QUOTA PARTECIPAZIONE
QUOTA ISCRIZIONE
QUOTA UDITORE
NOTE
La master Class è aperta anche al Duo Pianistico
CONCERTO FINALE
SETTIMANA CON IL PIANISTA GEORGY TCHAIDZE - Concerti e Master Class

Autentico virtuso del pianoforte, uno dei più grandi interpreti dell'ultima generazione!
MASTER CLASS 2/7 dicembre 2019

CONCERTI ORO CON IL PIANISTA TCHAIDZE

Gli studenti della Master Class del M° TCHAIDZE avranno diritto ad un biglietto omaggio per i concerti.

Domenica 1 dicembre ore 17.15
Recital GEORGY TCHAIDZE pianoforte

Venerdì 6 dicembre ore 21,15
Concerto di Musica da Camera
Altidona (FM) - Accademia Malibran - Sala Colonna
ROSSELLA MARCANTONI soprano, ALDO CAMPAGNARI violino, GEORGY TCHAIDZE pianoforte

Sabato 7 dicembre ore 21,15
Altidona (FM) - Accademia Malibran - Sala Colonna
Concerto Giovani Solisti Master Class di pianoforte del M° GEORGY TCHAIDZE

Domenica 8 dicembre ore 17.15
Altidona (FM) - Accademia Malibran - Sala Colonna
DUO PIANISTICO GEORGY TCHAIDZE - NADEZDA PISAREVA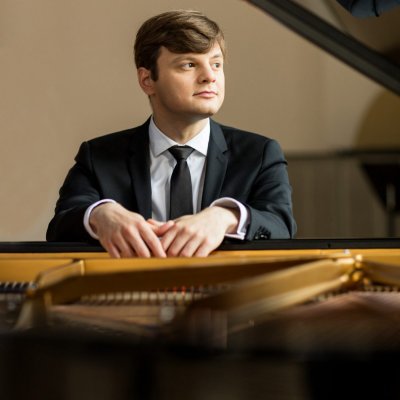 GEORGY TCHAIDZE
Georgy Tchaidze, russo di San Pietroburgo, ventottenne, laureato presso il Conservatorio statale Tchaikovsky di Mosca con Sergey Dorensky e ha conseguito il Master con Klaus Hellwig presso l'Università delle Arti di Berlino, città dove attualmente vive. Tchaidze è un autentico virtuoso del pianoforte, e ha vinto importanti concorsi internazionali, tra cui l'Honens International Piano Competition di Calgary, Canada, nel 2009 e l'International Piano Competition di Tromsø, in Norvegia, nel 2015. Si è esibito in tutto il mondo in sedi prestigiose quali la Konzerthaus Berlin, Het Concertgebouw di Amsterdam, National Centre for the Performing Arts di Pechino, Shanghai Oriental Arts Centre, Wigmore Hall di Londra e Carnegie Hall di New York oltre che presso la Glenn Gould Foundation di Toronto dove si è esibito per il Governatore Generale del Canada. Ha suonato nei festival internazionali più importanti tra cui Piano aux Jacobins di Tolosa (Francia), Musica d'estate di Toronto e Ottawa International Chamber Music (Canada), Kissinger Sommer e Young Euro Classic in Germania, Festival di Verbier e Septembre Musicale di Montreux in Svizzera. Nel novembre scorso si è esibito al Festival di Lucerna e in Giappone. Collabora regolarmente con il Cecilia String Quartet e, in duo pianistico, con la moglie Nadezda Pisareva. Nel 2013 ha collaborato con grande successo con il celebre Quartetto Borodin. Ha registrato 3 CD per l'etichetta Honens.
http://www.georgytchaidze.com

BIOGRAPHY
Georgy Tchaidze possesses "fine sensibility and perfectly honed technique" according to The Telegraph in its review of the young Russian pianist's Wigmore Hall debut. Since becoming 1st Prize Laureate of Honens International Piano Competition in 2009, Tchaidze has performed throughout Europe, North America and Asia to great acclaim, including debuts at Berlin's Konzerthaus, Glenn Gould Studio in Toronto, Het Concertgebouw in Amsterdam, National Centre for the Performing Arts in Beijing, Oriental Arts Centre in Shanghai and Zankel Hall at Carnegie Hall in New York, BOZAR and Flagey Halls in Brussels and at festivals including Canada's Toronto Summer Music, Ottawa International Chamber Music, Germany's Kissinger Sommer, Young Euro Classic, Switzerland's Verbier, Septembre Musicale, Lucerne, Norway's Lofoten International Piano, Festspiellene i Nord-Norge and France's Piano aux Jacobins. His performance of Rachmaninov's second piano concerto with Canada's National Arts Centre Orchestra with Pinchas Zukerman was met with praise: "commendable clarity … unusually powerful for a performance of so little ostentation" (Ottawa Citizen). In the summer of 2015 Georgy Tchaidze was awarded 1st Prize at the 4th Top of the World International Piano Competition in Tromso, Norway and then asked to replace Sir Andras Schiff with his perfromances at the Lofoten International Chamber Music Festival.
Born in 1988 in St. Petersburg, Georgy Tchaidze began to study piano and violin at the age of 7. He studied at the Moscow State Tchaikovsky Conservatory with People's Artist of Russia, Professor Sergey Dorensky for his undergraduate degree, and earned his master's degree at the Berlin University of the Arts with Professor Klaus Hellwig. Since September 2016, he has been artist in residence at the Queen Elisabeth Music Chapel in Belgium, under direction of Louis Lortie.
Tchaidze's reputation as a sensitive collaborative pianist is blossoming. He toured extensively with Canada's Cecilia String Quartet and performed with the esteemed Borodin Quartet. The Calgary Herald wrote about his performance with the Borodin Quartet: "Tchaidze was magnificent, matching the experienced string players note for note to produce a performance of rare beauty and musical conviction." His latest artistic collaborations include appearances with Cleveland Symphony Orchestra under direction of Bramwell Tovey, Forth Worth Symphony Orchestra with Leonard Slatkin, Brussels Philharmonic Orchestra under Aleksandre Bloch, with renowned Brentano String Quartet and also with such instrumentalists as Piotr Anderszewski, Stephen Kovacevich, Jean-Efflame Bavouzet, Marc-André Hamelin, Nikolai Lugansky and many others.

Tchaidze has three recordings on the Honens label: a live recording with Cecilia String Quartet, an all-Schubert album and a disc of works by Medtner, Mussorgsky and Prokofiev.
webdesign berlin